do it yourself solar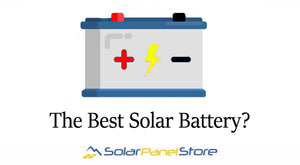 Which type of battery is best for solar applications?
There are several types of batteries that can be used for solar power systems, but the best type of battery will depend on your specific needs and circumstances. Some common options include lead-acid batteries, lithium-ion batteries, and nickel-metal hydride batteries. Each of these types of batteries has its own advantages and disadvantages, so it's important to consider factors such as cost, performance, and maintenance requirements when choosing the right battery for your solar power system.


Lead-acid batteries are the most common type of battery used in solar power systems. They are relatively inexpensive and have a long life span, but they can be heavy and can lose their charge quickly if not used regularly. It's common to use sealed or wet style batteries for renewable energy applications. 
The main difference between sealed lead-acid batteries and wet lead-acid batteries is the way in which the electrolyte solution is contained. In sealed lead-acid batteries, the electrolyte solution is absorbed into a sponge-like material, whereas in wet lead-acid batteries, the electrolyte solution is held in a separate compartment within the battery.
Sealed lead-acid batteries are also known as "maintenance-free" or "valve-regulated" batteries because they do not require regular maintenance or the addition of electrolyte solution. Wet lead-acid batteries, on the other hand, require regular checking and topping up of the electrolyte solution to ensure that the battery remains in good working order.
Sealed lead-acid batteries are generally more expensive than wet lead-acid batteries, but they are more convenient to use and require less maintenance.
Lithium-ion batteries are becoming increasingly popular for use in solar power systems because they are lightweight, have a high energy density, and can hold their charge for a long time. However, they are also more expensive than lead-acid batteries.
Nickel-metal hydride batteries are similar to lithium-ion batteries in that they are lightweight and have a high energy density. They are also relatively inexpensive, but they may not last as long as lithium-ion batteries.
The team here at SolarPanelStore.com has been working with batteries for off-grid and grid-hybrid systems for many years, and we have a lot of experience that we are happy to share with our customers. Please feel free to contact us for questions about batteries or to help with any kind of solar application!


Solar Home Grid-Tie System Sizing Part 3: Small System Economics